Лариса Зарицкая
information about the seller and his items
Share a link to this page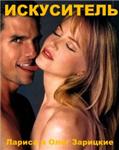 Description Zaritskaya tempter
Fun guy that is genuinely loving couples and fall in love with himself and his wife and husband.

He is tempted by love, and then enjoying their moment of betrayal and separation. His inspire feelings trampled, broken hearts, and the gulf of hatred.

But one day he falls in love with her and deceived them goes all the circles of hell ....


Additional information
The erotic novel "The Tempter"

Authors Larisa and Oleg Zaritskaya


After payment, please check your e-mail and download the file reference book.

Sometimes the letters fall into the 'Spam', and so check it.

If you have problems, please contact us via the website.
Feedbacks of Лариса Зарицкая
(0)