Zaritskaya TAMING OF IMPROPER
Лариса Зарицкая
information about the seller and his items
Share a link to this page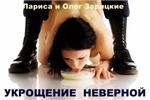 Description Zaritskaya TAMING OF IMPROPER
It all started with a casual acquaintance, an innocent flirtation, grew into an affair of a married woman and a young man.

But when the gentle and loving husband found out about this, he became a cruel monster and decided to punish not only the lover,

and his wife, subjecting it to all possible humiliations and tortures.

What do you expect a family in which love and tenderness changed rage, anger, violence, guilt and fear ..................


Additional information
The erotic novel "The Taming of infidels"

Larisa authors and Oleg Zaritskaya


After payment, please check your e-mail and download the file reference book.

Sometimes the letters fall into the 'Spam', and so check it.

If you have problems, please contact us via the website.
Feedbacks of Лариса Зарицкая
(0)