Лариса Зарицкая
information about the seller and his items
Share a link to this page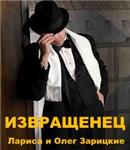 Description Zaritskaya PERVERT
The son of an influential official, returns to his hometown after a course of treatment. He is a talented writer, but became famous for his overtly lewd behavior and provocative antics. He takes everything from life, it is not suffering from remorse, love and men and women, as well as the "original" party. Some of his fanatical love and adore, while others angrily hate.

And he hates his father, but adores the theater.

Just play talented actors inspires him to live and work.

He wrote, a new play is a scandal and stir in the quiet "kingdom" of his father and he had to leave again, and wander the cities and villages in search of the meaning of life .......


Additional information
The erotic novel "PERVERT"

Authors Larisa and Oleg Zaritskaya


After payment, please check your e-mail and download the file reference book.

Sometimes the letters fall into the 'Spam', and so check it.

If you have problems, please contact us via the website.
Feedbacks of Лариса Зарицкая
(0)