Zaritskaya non-family RELATIONS
Лариса Зарицкая
information about the seller and his items
Share a link to this page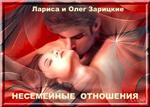 Description Zaritskaya non-family RELATIONS
Alina has a loving husband, a daughter, a comfortable home and a good job, but it does not satisfy her husband's temper, and she arranges a "love sessions" with men who are on the dating site.

Vyacheslav loves his wife, two children, but family life did not give him the fullness of life, and it makes up for this shortcoming on the side.

They are not looking for love. They needed only sex, but nonrandom meeting, makes both feel not only a passion that consumed them entirely, and has set a difficult choice - family, good life or a loved one ............ ..


Additional information
The erotic novel "The single for"

Authors Larisa and Oleg Zaritskaya.


After payment, please check your e-mail and download the file reference book.

Sometimes the letters fall into the 'Spam', and so check it.

If you have problems, please contact us via the website.


Feedbacks of Лариса Зарицкая
(0)