Zaritskaya my favorite cuckold
Лариса Зарицкая
information about the seller and his items
Share a link to this page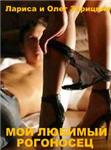 Description Zaritskaya my favorite cuckold
Two friends, ladies, "middle-aged" turned to a psychologist for advice on how to regain the passion in a relationship with their loved husbands.

The psychologist advised them very non-standard way.

Even on his own example showed how "right" to do so once again feel like a woman, and thus save their families.

But the fact that some treats are not always helping others.


Additional information
Erotic story "my favorite cuckold"

Authors Larisa and Oleg Zaritskaya


After payment, please check your e-mail and download the file reference book.

Sometimes the letters fall into the 'Spam', and so check it.

If you have problems, please contact us via the website.
Feedbacks of Лариса Зарицкая
(0)