Zaritskaya mistresses SPOUSE
Лариса Зарицкая
information about the seller and his items
Share a link to this page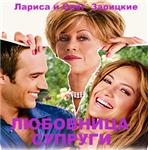 Description Zaritskaya mistresses SPOUSE
Spouses Cyril and Veronica is very happy.

It creates the comfort of home, two children and my husband keeps faithful, and it provides the family, thus, often unfaithful to his wife, but remains unnoticed.

Realizing that sooner or later will reveal his infidelity, Cyril wants to simplify your life and Veronica offers a little "shake" their relationship, adding some zest and invite this woman in their bed. After some hesitation, she agrees to perform intimate fantasy beloved, but it comes in a flavor that Cyril then had no time to regret it ..........


Additional information
The erotic novel "Mistress wife"

Authors Larisa and Oleg Zaritskaya


After payment, please check your e-mail and download the file reference book.

Sometimes the letters fall into the 'Spam', and so check it.

If you have problems, please contact us via the website.
Feedbacks of Лариса Зарицкая
(0)