Лариса Зарицкая
information about the seller and his items
Share a link to this page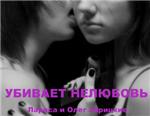 Description Zaritskaya KILLS dislike
Gypsy orphan foretold that he would become a serial killer.

This prediction has come true. Life without love made him a beast. Ruthless and bloodthirsty predator. And he was able to stop him, but the girl with a wounded soul like his. But the blood begets blood. Now she began to take revenge on all men in their path.

Who can stop it?


Additional information
The erotic novel "KILLS dislike"

Authors Larisa and Oleg Zaritskaya


After payment, please check your e-mail and download the file reference book.

Sometimes the letters fall into the 'Spam', and so check it.

If you have problems, please contact us via the website.
Feedbacks of Лариса Зарицкая
(0)