TUNIC + 20 Games - Steam - Region Free
@MediaSoft
information about the seller and his items
Share a link to this page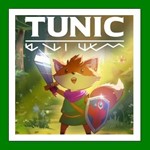 Description TUNIC + 20 Games - Steam - Region Free
Uploaded: 03.01.2023 11:46:28
Content: text 1616 bytes
After payment, you instantly get a shared Steam account (login and password) with the game TUNIC.

You can play the game only offline (offline) mode! To do this, you need to download and install the game from the Steam library. Enter the game before the menu or settings appear. Quit the game. In Steam, in the upper left corner, click steam - offline mode

On the account, in addition to TUNIC, there may also be other top games that you can play. About 20 games and add-ons.

Why download pirates with viruses and built-in scripts for mining, when you can easily take our account, download and play a licensed game!

- The account provided is the seller's personal account.
- You can start playing immediately after purchase.
- Account ONLY for the game! Only the library is open. Any other actions with the account are prohibited.
- Access to the account is yours forever!
- MAIN CONDITION! Play fair and do not use any cheats!

Our guarantees:
- 20 years on the game market! Quality checked by time!
- More than 220 thousand sales!
- Over 25 thousand positive reviews!
- Business level Webmoney - 550!
- Lifetime warranty 1 Year!

The account has no territorial restrictions - REGION FREE and is suitable for play in any country.

Languages: English, French, Germa, Spanish - Spain, Polish, Portuguese - Brazil, Russian, Simplified Chinese, Traditional Chinese, Ukrainian, Italian, Japanese, Korean, Turkish, Spanish - Latin America

@MediaSoft - 20 years at market! Quality checked by time!
Additional information

Instructions for using a steam account offline:
1. Install steam
2. Log in to Steam with the username and password you received. Be sure to click "remember username and password"
3. Download and install the game from the Steam library
4. Enter the game until the menu or settings appear.
5. Quit the game
6. In Steam, in the upper left corner, click steam - offline mode
7. Now you can start the game
8. Please do not exit the offline mode to the same account in the online mode, because. a lot of people are downloading the game and you will interrupt their download. Treat others the way you would like to be treated.

If you have additional questions before buying, please contact the seller in the online chat or write an e-mail.

Attention! The seller is not responsible for technical problems at startup, in the game and inconsistencies between the PC and system parameters. All such problems are solved through the official technical support of the publishers.