The syndrome of Gilles de la Tourette's Guide for Physi
Share a link to this page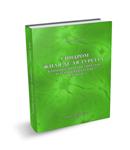 Description The syndrome of Gilles de la Tourette's Guide for Physi
Uploaded: 29.04.2013 15:11:43
Content: text 76 bytes
"The syndrome of Gilles de la Tourette. Clinical diagnostic and therapeutic aspects: a manual for physicians." /D.E. Zaitsev, St. Petersburg, 2012, 120 pages


The manual is designed primarily for practitioners of different profiles that are found in their work with patients suffering from tics and syndrome Gilles de la Tourette.

For psychologists and teachers may be of interest methods of grouping the symptoms of tics and syndrome Gilles de la Tourette to understand their connection with mental disorders in the early stages of the disease.

An important feature of the manual is the belief of the author of the successful outcome of the disease and the socialization of the child with an individual approach and search for new therapies.
Additional information
after the payment will be a link to download the archive with the book

ZIP file (PDF) 60 MB