The history of the stock exchange in Russia
Share a link to this page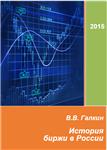 Description The history of the stock exchange in Russia
Galkin VV The history of the stock exchange in Russia / E-book. - 2013. - 189 p.


The book analyzes the historical experience of the functioning of the Institute of exchanges and exchange of business in Russia. Traced the stages of evolution of the Russian stock market: the pre-revolutionary period, the period of the NEP and the newest stage of their formation and development.

The publication is intended for scientists, specialists in the history of the national economy, graduate students, traders and wide range of readers interested in the history of the exchange.
Additional information
TABLE OF CONTENTS


Introduction

Chapter 1. Genesis of the Institute exchanges

Chapter 2. Becoming exchange in Russia

Chapter 3. The Soviet NEP period Exchange

Chapter 4. Modern Russian commodity exchanges

Chapter 5. Modern Russian exchange stock market

Closing

Key events in the history of the Russian stock exchange