The best way to get up on top affiliate Reiten
Share a link to this page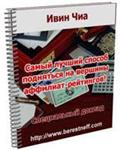 Description The best way to get up on top affiliate Reiten
On the pages of the special report, "The best way to get up on top affiliate ratings!" Ivin Chia shares their own experiences and strategies of earnings in affiliate programs! All of them are tested in practice more than once, and always showed excellent results.


You will learn how you can quickly and easily turn any affiliate program into a source of regular income, putting into practice the six simple steps! They are so simple that even a child will perform them.


Additional information
This book provides you with resale rights! The market value of these rights is $ 97! Recommended sales price - $ 07.05.


The format of the document - pdf.

Number of pages - 29.

Ability to print - yes.