Secrets of the conversion of a commercial site
Share a link to this page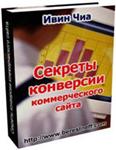 Description Secrets of the conversion of a commercial site
You will find 40 important methods and techniques, the use of which in practice will allow you to boost sales and profits to a new level.


In this book, not "water", have those words and lines, which could be deleted without loss of content. The book is a list of very important subtleties, each with a brief commentary. All these important points are collected and arranged in series, and thanks to it, you have no need to collect this information on their own bit by bit, and organize it to form its own list of "little things that need to be taken into account" when developing their own e-commerce site.


Additional information
This book provides you with resale rights! The market value of these rights is $ 97! Recommended sales price - $ 10.


The format of the document - pdf.

Number of pages - 38.

Ability to print - yes.