Script Services Search Details EMEX.RU (FindDetailAdv4)
Share a link to this page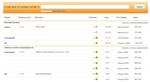 Description Script Services Search Details EMEX.RU (FindDetailAdv4)
Script cost components using Web services EMEX.RU.

Powered by a NEW method FindDetailAdv4. Description is available on the official website http://wsdoc.emex.ru/FindDetailAdv4.html

Easy to integrate to your website. Ready to help.
Additional information
To use the script, you need to access the web services emex.

If you are registered on the site with a partner, ask to provide you access to Web services, thus informing the IP address of the host / server where the script is located, if directly, independently online through web-services section.

% Mark set yourself.