🔥 Scrap Mechanic | Steam Russia 🔥
The Game Drawer
information about the seller and his items
Share a link to this page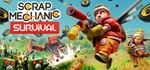 Description 🔥 Scrap Mechanic | Steam Russia 🔥
Uploaded: 09.01.2023 15:35:35
Content: text 16 bytes

***THIS IS A STEAM GIFT, NOT A KEY***
YOU MUST HAVE A STEAM ACCOUNT OF THE REQUIRED COUNTRY WRITTEN ON THIS DESCRIPTION PAGE; JUST A VPN ALONE WILL NOT CUT IT.
As soon as your payment goes through, you will be redirected to the bot page. If you are not automatically redirected, go to the order page and click "Get the goods". THE BOT WILL SEND YOU A FRIEND REQUEST AS SOON AS YOUR ORDER IS PLACED, PLEASE ACCEPT IT WITHIN 5 MINUTES FOR AUTOMATIC DELIVERY.

Region: Russia
This is a steam gift for the game Scrap Mechanic for the steam accounts having region Russian Federation


Additional information

How to activate Steam Gift:
1. Download and install the Steam client - http://store.steampowered.com/about/
2. Register a new account or login as an existing one.
3. Copy the link to your Steam profile in the specified field when buying the game.
4. Wait for an invite to friends of the seller and take it.
5. When receiving a notice of sending you a gift take it.
6. After adding the Library to start downloading the game and wait for full load.
7. Enjoy the game!
Please note: the product is usually delivered from 10 am to 7 pm Moscow time which is our standard office timing.


Feedbacks of The Game Drawer
(0)