Painting and its agents. Zh.Viber.
СХР Портрет на заказ
information about the seller and his items
Share a link to this page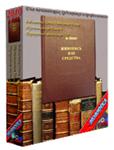 Description Painting and its agents. Zh.Viber.
Uploaded: 06.07.2010 09:12:43
Content: text 48 bytes
E-book 1.4 MB.jpg
C the right to resell and post on your website!
# The electronic version of the book by J. Viber is presented in the form of an electronic book that can be placed on a computer and carefully studied in a comfortable environment, not including the Internet.You can give a book.
# Resell.
# The e-book includes an additional section "notes", which is not displayed on the site, but has a large volume and a lot of useful and interesting information.
All funds received will be used to create other El.art books and books for beginners and professional artists.