Instructions manufacturing three-dimensional letters of ALS Profile
Share a link to this page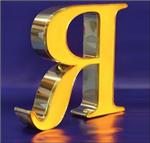 Description Instructions manufacturing three-dimensional letters of ALS Profile
Instructions manufacturing of volumetric letters profile ALS.

With this guide you will be able to produce large letters.

It is packed in a zip archive (document MS Word).
Additional information
The advantages of using the profile


• Easy to produce letters, ease of bending profiles. A minimum of waste.

• Multi-functional profile. Possibility of making the letters very small (20 - 30 cm) to large height and 2 m, and the letters as the internally illuminated with fluorescent lamps, LED or neon, and without it.

• Is the wide range of colors, including metallics. The ability to expand the color gamut by an independent staining profile.

• Reliable operation and ease of maintenance.

• The high aesthetic quality of the finished product. Long-term corrosion resistance.

• High impact resistance and resistance to temperature and UV radiation.

• Continuous color stability painted at the factory profile bars.

• For the production of three-dimensional marks is not required special training of personnel.


Feedbacks of Властелин
(0)