How to get mad profits online by selling prod
Share a link to this page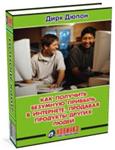 Description How to get mad profits online by selling prod
The purpose of this e-book is to show how you can make a profit by selling other people's products. It will be useful to all those involved in or wants to start selling information products with resale rights!


You know, I have to do every Internet entrepreneur, including you, without fail, before it starts to sell books with resale rights. If you do not, you will get a lot of problems, loss of money and possibly a subpoena!
Additional information
You will learn how to quickly and easily start making selling packages of books with resale rights. Do not use this technique, you will lose profits every minute, which does not even guess!


This book provides you with resale rights! Recommended sales price - $ 10.


The format of the document - pdf.

Number of pages - 22.

Ability to print - yes.