How to create a profitable advertising texts
Share a link to this page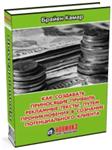 Description How to create a profitable advertising texts
If you are interested in how the movers and shakers get their online business success, the owner of a commercial site, which should bring you profit, you know copywriting role in the development of its project - then this book will be very useful for you.


You will learn how to make your own website to bring a huge profit and make it buy your product instead of your competitor's product;


Additional information
You will learn how to turn disadvantages into advantages of your product and tripling sales of your product, only slightly adjusted to make the ad text;


This book provides you with resale rights! The market value of these rights is $ 97! Recommended sales price - $ 10.


The format of the document - pdf.

Number of pages - 35.

Ability to print - yes.