History of military naval battles 1939-1945.
Shotokanknight
information about the seller and his items
Share a link to this page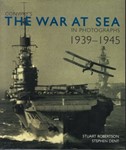 Description History of military naval battles 1939-1945.
Uploaded: 02.05.2018 10:02:02
Content: text 32 bytes
The book "Sea War 1939-1945" ("History of the sea battles of 1939-1945 in photographs") is unique. The enormous work of the author - to collect scattered photographs of various most important sea battles in various parts of the world, to put everything in the form of a narrative, providing facts and documents - deserves the deepest respect. In this book are collected, perhaps, almost all available photos of battles on the sea during the Second World War. For the first time the war is shown through the eyes of all the parties involved. This is a real find for every researcher of world military history.
Additional information
Title: Sea War 1939-1945
Author: Paul Kemp
Format: PDF
Size: 91 mb
Quality: Excellent
English language
Feedbacks of Shotokanknight
(0)