🔴 Golf Gang 🔴 Steam Global Key 🔴
Share a link to this page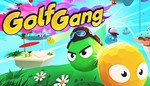 Description 🔴 Golf Gang 🔴 Steam Global Key 🔴
Uploaded: 16.02.2023 23:38:30
Content: text 17 bytes
After payment you will instantly receive the key to the game Golf Gang.
The key will be displayed in the browser window and will be sent to you by e-mail immediately after payment.
Key activation occurs on the platform: Steam.

The key has no regional restrictions.

Game Description:
Golf Gang is racing with friends, and at the same time the fastest mini golf game! Aim accurately and race forward to rule the green in 8-player online bacchanalia or hone your skills in single player mode.

MULTIPLE PLAYER BACCHANALY
Kick the ball while moving and rush across the field at breakneck speed. Challenge your friends in three game modes and hundreds of holes. Show that you are able to find the golden mean between the heat of the race and the cold calculation!
EXPAND FOR CUSTOMIZATION
Create and play by your own rules with multiplayer modifiers. Reduce gravity, add collision explosions, slow down time and much more. Come up with thousands of unique ways to play, and let each new one be cooler than the previous one.
BECOME FAMOUS ON THE GOLF COURSE
Compete with your friends for the top spot on the leaderboard in exciting time trials, classic and hybrid modes. Golf Gang is a game that makes you want to roll another race and go another hole (or even 18) on your lunch break!
CHANGE EVERYTHING!
Find your style with custom skins, routes, hats, accessories and more! Impress your opponents not only with your ability to play, but also with your beauty. Creators from the Workshop can express themselves in a new field, creating entire racing fields in the Unity engine for the game community!
Additional information
📝 Instructions for activating the key in the Steam service:
1. Launch Steam
2. Sign in to your account or create a new one
3. In the top menu of the Steam window, select the menu item "Games" --> "Activate via Steam"
4. Accept the terms of the agreement and enter the received key
Feedbacks of GetSocial
(0)