DYING LIGHT 2 (STEAM ACCOUNT OFFLINE)+gif
Share a link to this page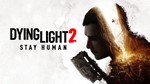 Description DYING LIGHT 2 (STEAM ACCOUNT OFFLINE)+gif
Uploaded: 14.12.2022 14:59:05
Content: text 258 bytes
🔥 INSTANT ISSUANCE OF GOODS AFTER PURCHASE! 🔥

⭐️ Buying this product you get:

✅ Instructions for installing the game.

✅ Licensed accounts, they will never be restored or hacked

✅ DYING LIGHT 2 game purchased officially.

✅ Region Free/Global (You can play in any country)

✅ The game is provided only in offline mode!

✅ Account data cannot be changed.

✅ If your PC does not run the game or you have a compatibility issue, no refund will be made.

✅ Safe download without third-party programs.
Additional information
📌 What is offline activation?
✔️ After successful activation, you get a separate Steam client with a seller account in offline mode with the selected game.
✔️ Activation will give you the opportunity to play an unlimited amount of time in the purchased game (following the instructions).
✔️ You can use your PERSONAL account (playing your games, from your account) without losing activation
✔️ You will receive all the latest patches for the game, you can download the game directly from your account
✔️ The activation cost is several times less than the price tag on Steam (or another service \ marketplace), although in the end you will have a working, licensed version of the game
✔️ No need to turn off Windows updates, etc.

I will provide the buyer with a gift certificate in the amount of 30% of the amount paid by him for a positive review