Deus Ex: Invisible War и 31 игра Steam GFN
freshaccountsell
information about the seller and his items
Share a link to this page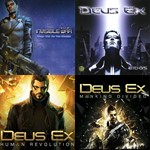 Description Deus Ex: Invisible War и 31 игра Steam GFN
Uploaded: 09.11.2022 01:54:51
Content: text 46 bytes
What it is?
This is a Shared account with access to the game library
You can be on the account online, and transfer it to offline mode.
Account closed by STEAM GUARD and Family View

What do you get for 110 rubles Deus Ex: Invisible War
1. View account - Login: password with the game
2. Access to the game to the workshop and mods
3. Access to the Steam library and other games (see the list below)
4. The ability to play through GFN (I do not provide an account)
5. Ability to purchase other popular games at a low price
6. Customer support in telegrams and through private messages

What is blocked on the account:
1. Ability to play online games
2. Change mail and password
3. Steam family sharing
4. Remove STEAM GUARD and seed view

Activation instructions

1. Enter Login:Password
2. Request STEAM GUARD code (tg or private messages)
3. Sign in to your account.
4. Download the game you need or launch it via GFN
5. Enjoy the game



P.S There may be other people on the account - to play comfortably, go offline.
Additional information
List of games on the account

Arizona Sunshine
Dead Island Riptide - Definitive Edition
DEATH STRANDING DIRECTOR'S CUT
DEATH STRANDING
Deus Ex: GOTY
Deus Ex: Human Revolution
Deus Ex: Mankind Divided
Deus Ex Collection Bundle
Dishonored
Dishonored 2
Dishonored: Death of the Outsider
Dishonored Bundle
Don't Starve Together
Doom
Doom Eternal
The Elder Scrolls IV: Oblivion
The Elder Scrolls V: Skyrim SE
The Elder Scrolls V: Skyrim VR
The Elder Scrolls Bundle
Fallout 4: GOTY
Fallout 4 VR
Fallout 4 GOTY/VR
Green Hell VR
Horizon Zero Dawn
The Incredible Adventures of Van Helsing
The Incredible Adventures of Van Helsing II
The Incredible Adventures of Van Helsing III
The Incredible Adventures of Van Helsing Anthology
Middle-Earth: Shadow of War
Middle-earth: Shadow of Mordor
Stronghold: Warlords
The Hunter: Call of the Wild
The Walking Dead: Saints & Sinners
The Witcher 3: Wild Hunt
Wolcen: lords of mayhem

Answers to frequently asked questions
1. Is it possible to remove Steam Guard and family viewing - No
2. Is it possible to change the password - no
3. Is it possible to play online - yes
4. Is it possible to play Offline - yes
5. Is it possible to play via GFN - yes
6. Can I install mods - yes
7. Is the Russian language available - yes (except for those games in which the developer himself did not add it)
8. Are there regional restrictions - no
9. I want to play online games on my account, such as CS and DOTA 2, can I? - no (play on your account)
Feedbacks of freshaccountsell
(0)