Coupon World of Warships – Commander Bundle
illuminatus
information about the seller and his items
Share a link to this page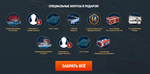 Description Coupon World of Warships – Commander Bundle
Uploaded: 15.10.2022 03:16:28
Content: text 49 bytes
After payment, you are guaranteed to receive a coupon-link to the World of Warships website where you can receive your bonus after registration.


⭐ Tier 3 Soviet cruiser Bogatyr
⭐ Tier 4 American cruiser Phoenix
⭐ Commander with 6 skill points
⭐ 14 days of Warships premium account
⭐ 1 million credits
⭐ Port slot
⭐ 3x In the service of the Motherland containers
⭐ 3x American Cruisers containers
⭐ 10x Victory camouflage

Promotion valid for new players only! You can claim this award until 01/01/2023.
Additional information
To receive the reward, you must:
- after purchasing the product, follow the bonus link;
- registration (creation of a new account);
- install the game on your computer;
- log in to the game under the created account.