Shotokanknight
information about the seller and his items
Share a link to this page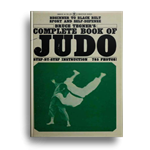 Description Complete Book of Judo
Uploaded: 18.07.2022 16:30:53
Content: text 39 bytes
All the techniques needed to progress from beginner to Black Belt are taught in this book; in addition, there is a section of basic self-defense which can be learned by
ANYBODY.
Bruce Tegner faithfully follows the original ideas of the
founder of Judo, Dr. Jigoro Kano, adapting those ideas to the needs of twentieth-century Americans.
Additional information
Year of manufacture: 1972
Number of pages: 278
Number of illustrations: 785
Quality: Good
Format: pdf
Language: English
Size: 12 MB.
Feedbacks of Shotokanknight
(0)