Share a link to this page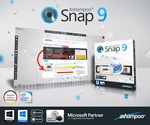 Description Ashampoo Snap 9
Uploaded: 05.10.2018 13:08:59
Content: text 16 bytes
New Ashampoo Snap 9 - the most flexible Snap to date. Whether editing your videos on the fly while recording, or the ability to open your images in a program of your choice, Ashampoo Snap 9 gives you many new options! Discover new features, such as the ability to record keyboard input while recording videos, create animated GIFs, an improved image editor, or full browser support! Use smart features such as automatic recording stop, or selecting a screen to be used by the Snap image editor - try the most friendly Snap of all time!
Additional information
Ashampoo Snap 9 is the perfect solution for taking screenshots and recording videos on your PC. Capture everything that you see on the screen in an image or video, and add additional information, such as text or arrows. An image is worth a thousand words - if it's done right! Use the built-in text recognition feature to copy entire pages, or share your finished images with friends and family. Whatever you need - clarify, document or simply show - Snap 9 is always the best choice!
Screenshots are just the beginning.
Images and videos provide information in a more convenient, personal and concise way compared to text. Use Ashampoo Snap 9 to create images and videos that tell your story exactly the way you would like to tell it! Drop lengthy explanations and create intuitive, expressive images with just a few clicks.
Video as by request
With Ashampoo Snap 9, your possibilities are endless! Easily create video tutorials, or just record from your webcam, Skype calls or stream! Improved recording menu allows you to pause your videos, add effects or use a timer.
The benefits of a good program
Ashampoo Snap 9 is smart and takes a lot of manual work on itself. Whether it is integrated text recognition, which can extract text from entire pages, automatic numbering, which can make the steps more understandable, or an automatic stop function that stops recording, if nothing happens - it all makes sense! Create, edit and send - do it all in one application.
Makes more, shows more
Snap 9 allows you to edit your notes by adding text and graphics. This is the fastest and most intuitive way to create video instructions! You can also record your keyboard input. Where you used to insert text explanations and graphics, Snap can now do everything for you - just perfect for manuals!
Excellent interaction with other applications
Would you like to edit your captures in your favorite app, or upload them to the cloud? Ashampoo Snap 9 makes it possible. Choose any editor that will be used for your images, such as Ashampoo Photo Commander, and customize the save path. Need to save your images online? Simply select an application such as Evernote, and go ahead.
Smarter and more flexible
Usually, when you record a video, you should sit and wait for the right moment to stop the video. Snap 9 detects when actions are over and automatically stops recording. The recording window is extremely flexible. Move it where you want even while recording to keep the focus on the process!