3 part. 96 files of still lifes of the XVI-XX centuries
СХР Портрет на заказ
information about the seller and his items
Share a link to this page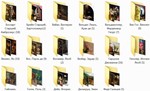 Description 3 part. 96 files of still lifes of the XVI-XX centuries
Uploaded: 31.03.2021 07:54:18
Content: text 545 bytes
There are 96 files, 17 artists of the XVI-XX centuries from 1MB to 10MB.
Why are these high-quality files so good?
1) You can print a reproduction on quality paper in exact size with

the original, which improves copy quality many times over.
2) When you enlarge the file, you observe the technique of the master and it becomes clear how he technically painted the

picture
3) the artist can always show his collection to the customer and will not miss the customer, because you already have all the world's still lifes and he has no need to look for

them elsewhere.
You can print print a poster on:
- plain paper at your discretion (offset, coated, flyleaf, etc.)
- watercolor paper (this is optimal in terms of quality and cost - inexpensive

and angry, as many would say)
- canvas (an expensive option, but very nice and rich looking)
- PVC which is not afraid of frost, sun or water (new material for us, I would take it economy class)
- other types of bases (there are not many options for listing the article)
You can order an artist oil painting on canvas!
Feedbacks of СХР Портрет на заказ
(0)